Comprehensive Eye Care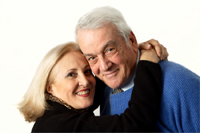 By age 65, 1-in-3 Americans have some form of vision-impairing eye disease. Most however do not know it because often there's no warning symptoms or they assume that poor sight is a natural part of growing older. By detecting and treating eye disease early through annual, dilated eye exams, seniors can preserve their sight.
Two common eye diseases afftecting seniors are Cataracts and Glaucoma, to learn more select a link below.